Less Bland Productions is a Victoria-based media production company dedicated to creating high quality television series and feature films for distribution in Canada and beyond. We are a member of the Canadian Media Producers Association.
Leslie D. Bland
President/ Executive Producer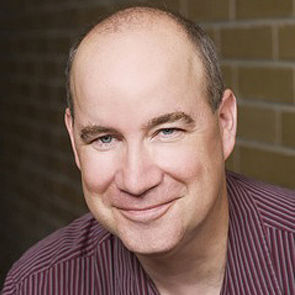 Leslie has produced, written, directed, and performed in over 150 professional projects in film, television, radio, and live theatre. He is an alumnus of the Trans Atlantic Partners training and networking program.
He has produced and directed the all-female comedy series She Kills Me for APTN; and the award-winning feature length documentary Gone South: How Canada Invented Hollywood which featured Howie Mandel, Neve Campbell, David Foster, Alex Trebek, David Shore, Shannon Tweed, and many other Canadian celebrities, for theatrical release and broadcast on Super Channel. Gone South won Best Documentary at the Glendale International Film Festival and was an official selection to 22 film festivals in Canada, the US, and the Cayman Islands. It was also featured on Air Canada flights, was recently picked up by specialty channel Hollywood Suite and Discovery Networks. Leslie also produced and directed the Telus sitcom series Ollie and Emma, which is now being broadcast to millions of homes in the USA by FNX. Leslie also produced and directed the documentary series The Wine Guys: Grape Escapes, which was shot in Italy and Spain, and has been sold throughout Asia, Australia, New Zealand, Africa, and Europe. He recently completed the documentary Dust n' Bones as writer/ director/ producer for Telus, APTN, FNX, and theatrical distribution. Télé Québec, CHEK TV, Zoomer Media, and Australia's NITV have acquired Dust n' Bones.
Leslie has a number of projects in development with a variety of Canadian broadcasters including Super Channel, and Hollywood Suite, as well as a number of feature films in development including the Telefilm supported action dark comedy Tattie Bogles.
From 2001 – 2010, Leslie was the Artistic Director of Kaleidoscope Theatre in Victoria. During his time as AD, he led a renaissance of Kaleidoscope's programming and profile in the community, setting attendance records for local in-house productions, winning and being nominated for many awards, and touring its productions nationally and internationally.
For 12 years Leslie was the co-founder and Executive Producer of Edmonton's Stage Polaris. During his time there, he directed, performed, and produced over 100 productions and oversaw Polaris' growth from an idea to becoming the second largest theatre company in Edmonton, with an annual attendance in excess of 100,000. During Leslie's last year with Stage Polaris, it won more Sterling Awards than any other Edmonton Theatre.
He is a graduate of the University of Alberta B.F.A. Conservatory Acting program, holds both his Instructor's and Performer's certification (A.R.C.T.) in Speech Arts and Drama with the Royal Conservatory of Music (University of Toronto), and received his M.F.A. in Directing from the University of Victoria. He is currently a Continuing Sessional Instructor with the University of Victoria.
Barbara Osberg
Co-Producer and Production Supervisor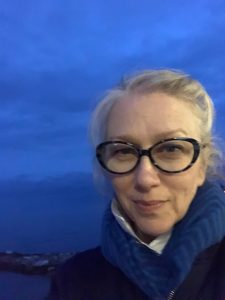 Barbara has served in many production management roles on a number of projects including Production Supervisor on the Telus/ APTN/ FNX documentary Dust n' Bones; Production Manager; Art Director for The Wine Guys: Grape Escapes which was filmed in Italy and Spain; as Production Coordinator for the Super Channel feature film Gone South: How Canada Invented Hollywood and the Telus sitcom series Ollie and Emma; and was the Assistant to the Producer for the APTN TV series She Kills Me. She is currently Co-producing and providing Production Supervision for the Zoomer Media Health and Lifestyle Series Muscle Muse and the Accessible Media Inc. series of interstitials Tips and Tricks for Everyday Living.
Sophie Underwood
Development Coordinator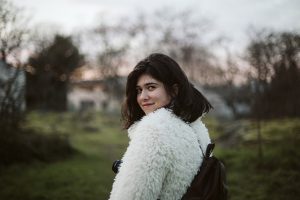 Sophie is a graduate of the University of Victoria (BFA Writing and Theatre, 2018), and is the Development Coordinator for Less Bland Productions. She is on the writing team for a number of projects in development, including the heist film Reclaim and the comedy series Hilary for Hire, and is acting as story consultant and script editor on many other exciting projects.
Sophie's roots lie in playwriting, and she has had many of her original plays performed, including Pieces of the Moon (SKAMpede 2019), The Lonelies (Belfry Sparkfest 2019), Ernie and Bethy (Victoria Fringe 2018, Pick of SATCo Winner 2018), The Dinner Guest (SATCo 2017), and a number of original children's shows with Over the Moon Puppets, a local and mobile puppet theatre she co-founded in 2018. She has also written, performed, directed, and designed for a number of professional and community productions with Kaleidoscope Theatre, the Phoenix Theatre, the Greater Victoria Shakespeare Festival, Vino Buono, and others.
Sophie has served on the fiction board of literary magazine the Malahat Review from 2015 to 2018. She also enjoys drawing, painting, and rock climbing.